Solo Exhibition of Takahiro Hara at Zokyudo Gallery
His paintings have something to make people happy to look at them, I thought, attending his solo exhibition at Zokyudo Gallery, feeling myself happy, too.
The reason why may be because his works are all represented by his unaffected genuine character. Not only his landscape or still-life paintings but his paintings of portraits of a man or a woman are also fascinating. Of course, we know many examples of attractive portraits of a man in the past, however, nowadays it's too scarce to come across.
He says that he is much interested in painting purely body itself in the nude painting, be a man or a woman. He doesn't say about high flown spirituality. At any rate, I think, the genuine artists won't to talk about spirituality like the faithful artisans talk only about technical matters. But for us, nevertheless, their comments may sound spiritual depending on the time.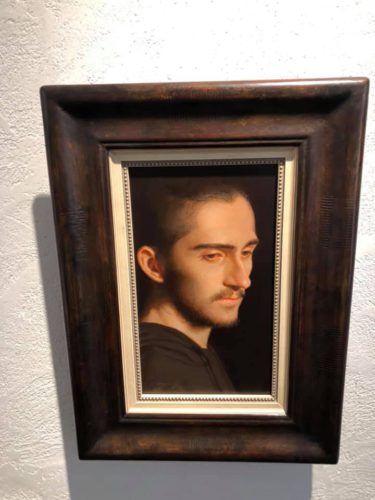 As we know him personally, we may be bent on that we touch his spirituality. Maybe it seems a bit exaggerating to describe using words. By the force of brush, I might have said too much.
As I am preparing for the exhibition of an artists, it often happens that I am perplexed how to handle on seeing the completed works, to tell the truth. We don't always say well in front of an artist. On some occasions, we say severe comments on the work, as we are professional. We are always in a delicate state of mind that whether these severe words will hurt, frustrate him or make him angry to induce him to quit us. To say straight or not, we are constantly in the midst of hesitation. Sometimes, I think hard that I shouldn't have done such comments, to be honest.
This is indeed my business to proceed and in the same sense they have lives to proceed.
Mr. Hara nonchalantly laughs at me, saying that please criticize me frankly without any hesitation. He even says that he is in the process of developing. It eases my anxiety a bit and makes me heartwarming.
Such being the case, the curry lunch together, three of us including Mr. Oka, was very tasty.
Curry dish in Kyoto compared with that in India is as delicious as each other. Solo exhibition of Mr. Takahiro Hara is to be held in December 2019 at Shukado Gallery, in Ginza.
2019/07/08