Q: When did you begin to draw woman portraits?
Nakahara: I have been drawing woman portraits since I was little. However it was until college that I started to aware that it could be a subject of a painting. I also drew naked models at the time. However, it barely took all my energy to draw an object, let alone to think about the idea that I tried to convey through my works. Later, it came to my mind to put human and plants together for my graduation work. "Is it possible to mix these two subjects in an harmonious way ? " I have been always thinking about using plants as dress patterns and corsages since then.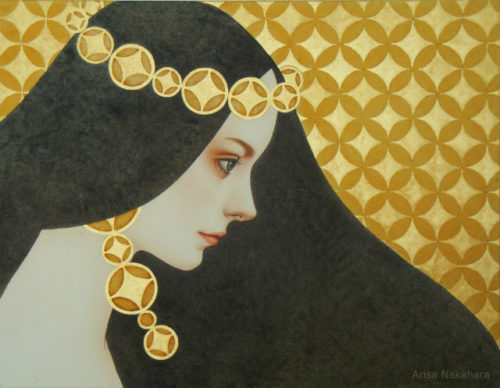 Q: In your work, the patterns and colors of the clothes and small articles are really unique. Do you have any specific references?
Nakahara: I do gain inspirations from the models on the runway, as well as costumes. For me, face, clothes and accessorizes are all inseparable. Also, sometimes I think that my color preference do reflect my Okinawan background.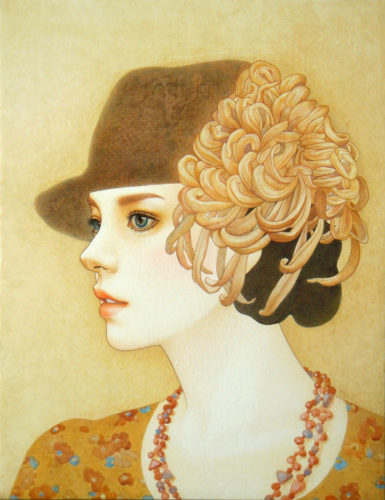 Q: What is the interesting part about drawing women? The difficult parts?
Nakahara: First of all, it is not easy to define what woman is. However, it is one of the subjects that I feel confident enough to depict. I want to demonstrate the most epic shining moments of woman through my paintings. Nevertheless, there are always changes in our life and we are all going to die which would make us feel desperate. I want to create something that encourages people to make the most of the present.
I like to paint women wearing make-up, but eyebrow always takes me a lot of time. In my perspective, it is the eyebrow that reflects the taste of the time, while base make-up is actually not that different over time. So I always pay attention to create a beautiful, nature looking eyebrow. It is hard to express how wonderful it is to paint woman portraits in a few words, but to make it short, it always gives me inner peace.
2013/06/01