Di Qing was born in China mainland and through Taiwan moved to settle down in Japan. She is the second artist after Chen Pei Yi ( well-known artist for cats paintings)who engaged with our gallery.
She was born in Zhejiang province in 1986 and these 10 years have published her works which have won
good reputations, considering that she is still in early stage in life.
Her works gaining a rapid popularity are now much sought after in Peking and Taipei even if rather a bit expensive.
In her world in the midst of many icons of Chinese culture, such as bamboo,cranes, eagles or imaginary animal qilins, you may notice noble-like, gender unknown persons who are strolling.
On some scenes, modern objects such as strawberries, fish, Badminton wings are flying lightly on her canvases, giving us phantasmagorical
euphoria.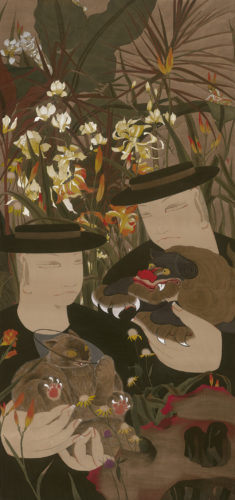 She's reserved and modest
like unassuming Japanese ladies. But it is by no means easy to come over China to settle down in Japan.
Apparently, she keeps her strong will to herself.
Her paintings wear something mystical hard to grasp. In the mingling world of past and present, or old fine art and modern art, she is blandly composed in somber and humid warmness.
Asiatic something she had found through the itinerary travels over China, Taiwan,Japan and European countries is brewed in herself and has taken a firm hold on her paintings.
How many stories are hidden on the SF-like mysterious world leading us to a kind of trance.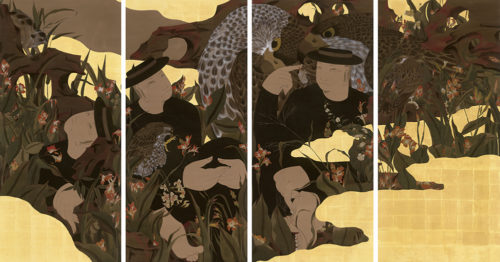 As you may know, we should endure cut-throat competition to live in Chinese society,
It is the same now as formerly.
But people always seek for warm heart and peaceful situations. Quest for peace never changes. It is the same as before.
That's why Southern Song
Painting was born more than 1000 years ago and intellectual people searched for peaceful and idealistic world.
If you look at her paintings,
you may feel that she is painting in a style of Southern Song painting.
Di Qing is always moving in search for warm places and deliver us a oriental warmth and humor. She will continue to soothe us by her warmth.
On a large scale publication of her works is to be exhibited in the Art Fair Tokyo 2020, for the first time in Japan.