The relationship has begun since I just happened to buy his work, "still-life". To put on his work on our catalog we have contacted him. Originally it was exhibited in the bath room of the hotel art fair. I was not a little interested in his singular images of buttock which radiated some strange charm.As I mainly handle Japanese traditional silk painting, I felt some kind of hesitation to western oil painting. It seems to me that he feels a bit cramped and wants more freedom of expression, as the ordinary exhibitions are obliged to conform to the decorum of the society and evade eroticism to some extent . However, Shukado is handling "Japanese Shunga"(erotic art) and I thought this is in the same line with our trade. So, I said to myself "Why not? We should approach him and cooperate each other for freer expression". Thus began our relationship.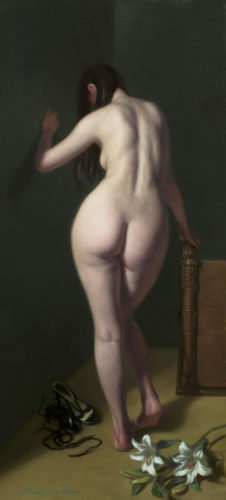 One of his traits is his predilection toward before 19th century paintings. Although realistic paintings are popular now, there are many sects among them. So far as Mr. Mishima is concerned, he follows the technique of traditional painting, yet, he adds constantly something new in his techniques. Indeed, we are surprised by his versatile knowledge and technique on art.Without using photos, he paints in front of a model who is obliged to pose for about several hours. In our days, this style of painting is rather hard to be seen among many artists in the field of realism. By using photos in case of many paintings, we are apt to lose the real trait of picture and its embodiment. He fights a lone battle to wipe away this lazy attitude of modern paintings.Another trait is his fetish interest in buttocks.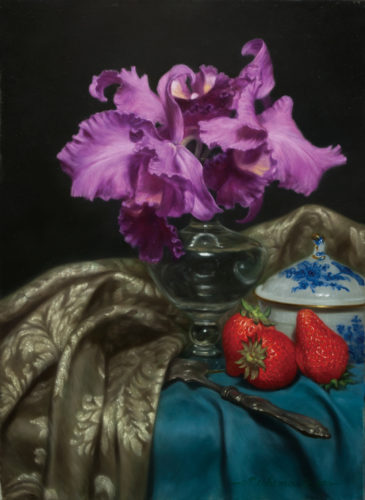 The man's admiration toward woman's body are divided in three groups, according to my opinion, that is, for bust, buttocks, and legs. I believe he belongs definitely to the group of buttocks. There are "Contests of big buttocks with slim waist being constricted" and, to my surprise, he is the president of its judges.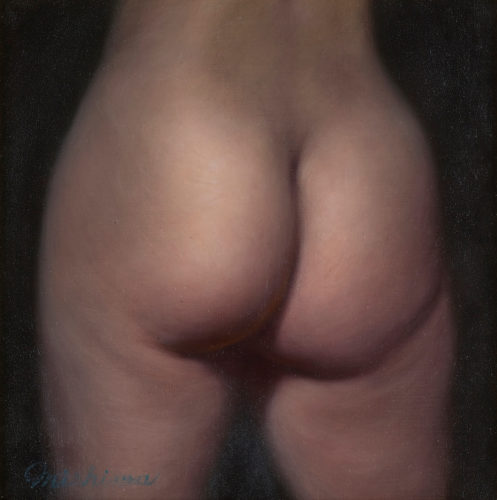 In the popularity of realism most people seek for the beauty portrait, "safe" and not obsessive
for their drawing rooms. In contrast, his world is quite contrary to this trend. He defies modern society with stark eroticism with an array of symbolic paintings to be called almost immoral. I hope you will enjoy his thrilling world.(Chiaki Tanaka, President of Shukado)
2018/06/14