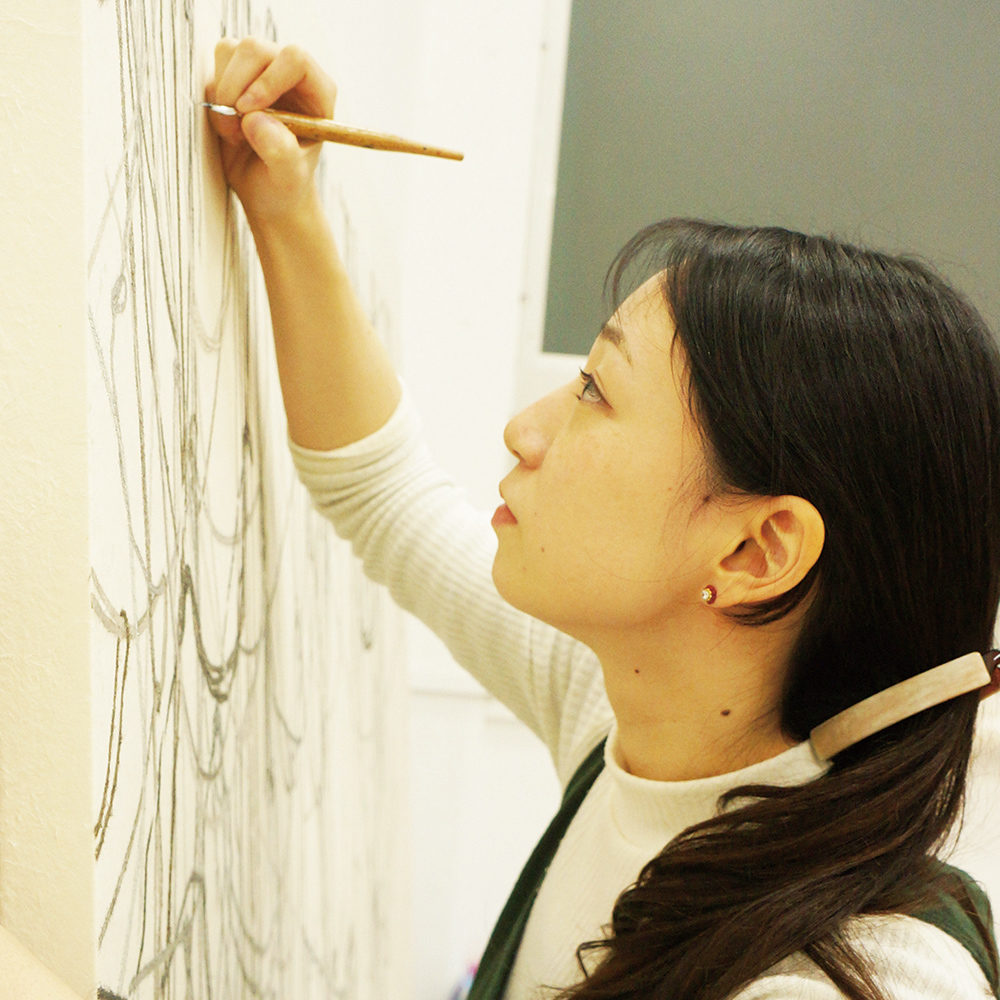 Satomi Sui
Satomi Sui is obsessed with the thread. Threads intertwine with dried flowers, hands and feet, and thread upon thread intertwine and hang down. The world of thread and gravity, drawn mainly with a pen on Japanese paper, is delicate and serene, and seems to painstakingly trace the origins of the universe. A kind of bizarre obsession with the thread and the silent rhythm of the thread invite the viewer's mind to a tranquil calm.
2020
Weekend展覧会Vol.2 田中美穂・釣光穂・松村咲希(ぎゃらりい秋華洞)
Web展覧会 Jump into the future vol.1 -色川美江/下重ななみ/田中美穂/根本篤志-(ぎゃらりい秋華洞)
2019
「アートオリンピア2019」展覧会/東京都美術館(東京)
第3回 アートオリンピア2019 佳作
2018
東京藝術大学 油画研究生報告展示-/東京藝術大学 立体工房・YUGA Gallery(東京)
個展/JINEN GALLERY(東京)
三人展「流浪/痕跡/光景」/ Gallery Valeur(愛知)
2017
第65 回 東京藝術大学 卒業・修了作品展/東京藝術大学構内(東京)
第2回 アートオリンピア2017 学生部門 第6位 上位入賞/学生部門 審査員特別賞 ブレット・リットマン
修了制作「静かな叫びを紡ぐ」/帝京大学博物館
アートオリンピア受賞作品「習作ー縁々繋ぐ」/FAN美術館
台東区環境ふれあい館ひまわり作品展示/台東区環境ふれあい館ひまわり(東京)
2016
藝大×EXPO展/Gallery・MARUHI (東京)   
2015
第63回 東京藝術大学 卒業・修了作品展」/東京都美術館(東京)
芸大・茨大・筑波大卒業修了制作選抜展/東海ステーションギャラリー(茨城)
Those are goods using the images of shukado's artists.
Please contact us
if you are thinking of the commodification of their works.